LHS1F switch and harness set for SDVX
Regular price
Sale price
$67.59 USD
Unit price
per
Compatible only with Sanwa buttons! And best paired with 20g Sanwa springs for a setup exactly like Valkyrie model cabinets!
This is a set of 6 OBSA-LHS1F Sanwa Microswitches and 7 (One to be used as a backup) Wiring harnesses for your Gamo2 or Yuancon controller. All wiring is hand made and tested before shipment. A 30Day Warranty period applies from date of receipt for the wires.
Installation is simple, twist the switches inside the buttons to lock them, plug the cable in each end and you're good to go!
While the switches are of exceptional quality, brand new and can typically last years, they are still consumables, and unexpected events can happen. We believe there are few worse things in this hobby than having a switch die while playing, which is why we give the option to include a spare switch at a reduced cost, to protect yourself against these events and keep you playing for longer!
NOTE: This wiring is NOT REQUIRED for a real Sound Voltex arcade machine, you only need the individual switches which can be purchased HERE
Share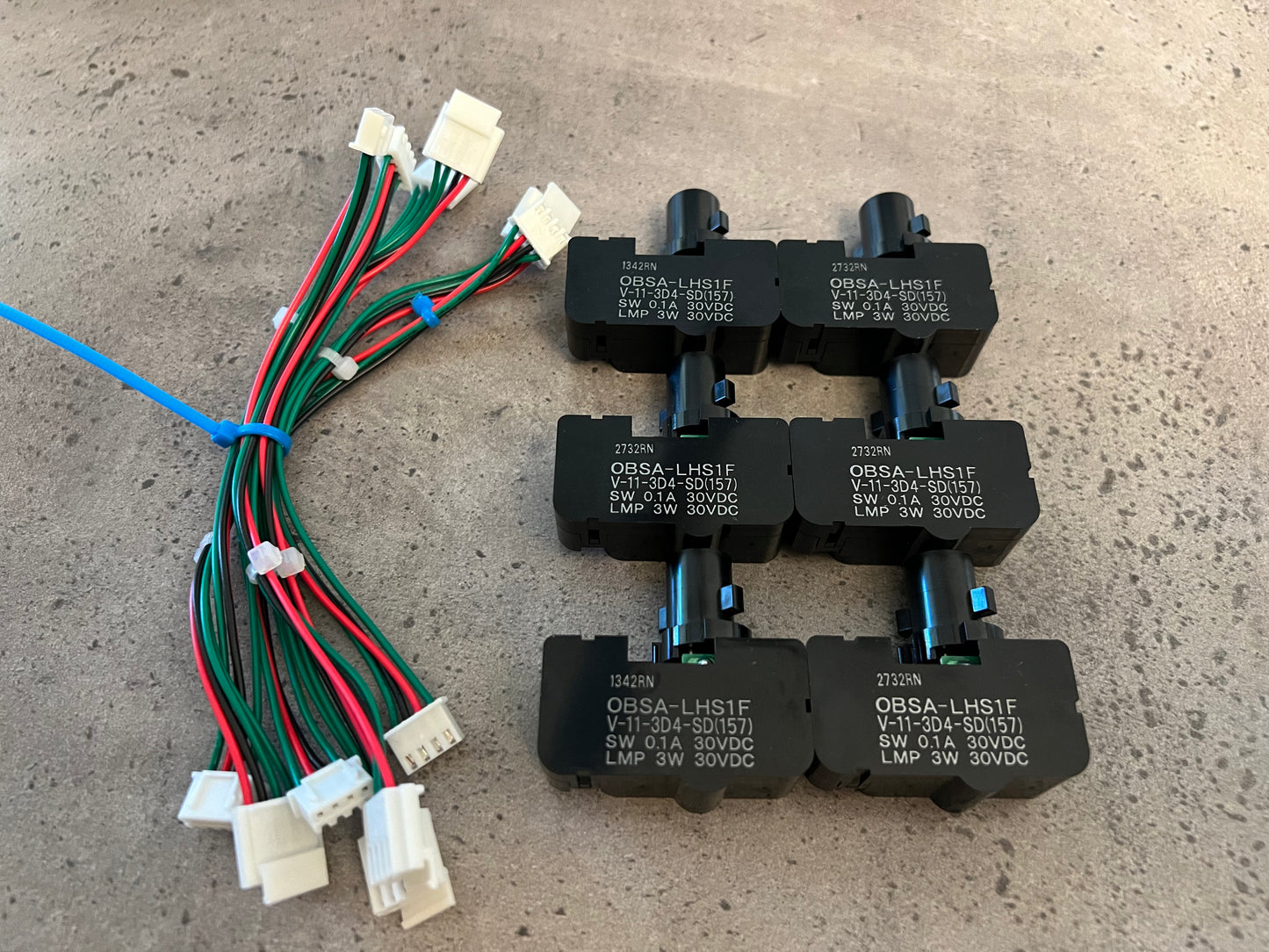 Huge upgrade!
Huge upgrade from my 50/60 setup. Got these when I reached Eldora, which I thought was the perfect time to get them since I can really feel the difference especially when playing 18s and above. Pair these with 20g springs for the ultimate experience! Do note that at least compared with non-integrated switches that these have a higher rate of misfiring, so I highly recommend including the spare switch as well. Fortunately, this has not happened since I installed them a week ago and playing with them for a few hours everyday.
Easy install and great performance!
I'm not great with most electronics installation and handling, but these were very easy to install into my Faucetwo. They feel great. I would highly recommend this site and its products! TYSM :)
Feels more accurate than Omron 50g
I'm still learning, so I'm not amazing at the game yet (just under 16 VF, for reference), but I noticed some accuracy improvement using these + 20g springs over my old setup (100g springs and 50g Omron). Probably like a 30 ex improvement on average. Took me a few minutes to realize that you need to actually push a little hard, and then twist, when you're doing the initial installation. Also I didn't realize at first, which Martin clarified for me, that you need to trim the bottom off the LEDs which come with the Faucetwo in order for them to light up with these switches.
Review
Let me preface this by saying that these switches feel great, way better than Omron switches, but from my experience they seem to be very prone to misfiring. I bought these switches back in March of 2023 and 5 months later in August of 2023, 3 out of 6 switches started misfiring, meaning I had to buy new switches, and this month September 2023, another one of the switches from the original purchase started misfiring too. I'm not sure if I just got a bad batch or the LED's I'm using might be affecting them, but if the new switches I recently purchased start misfiring too, then I pretty much can't recommend these switches to someone who doesn't have money to throw at new switches every 5-6 months.
Great feeling
Since these are the same switches used in Valkyrie models , they also feel really similar to the official arcade version. At first they feel somewhat "stiff" or "hard" but after like a week of playing they softened up and feel light like the ones in the arcade, it's a really nice feeling. Installation is also super easy with the harness set provided! If you have some extra money to spare, I recommend it a lot actually.